9
Our overall verdict "Excellent"
Drawtopia is a fairly new title to hit the iOS store that features a very cool drawing mechanic that makes for an interesting gameplay experience. In this review, I take a look at what makes Drawtopia so special, and provide some insight about the game.
Making their debut tot he iOS app store, Super Smith Bros LTD released Drawtopia, and despite it being their first time on the app store, the game seems to suggest that they have been around for a long time. Before we get into the gameplay, I would just like to point out that the developer has done exceedingly well at making this game as user friendly as possible. You'll first go through a very informative tutorial stage, and as you progress through, things will get more difficult at a pace that any player could cope with comfortably.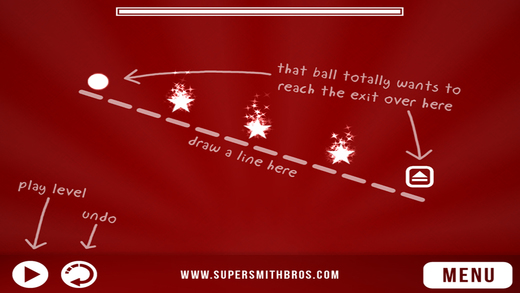 The graphics for this game are nice as well, and a lot of thought has gone into the user interface.
Now for the gameplay. In Drawtopia, you will be given the freedom to draw how you please on a blank canvas. Your main goal is to draw lines to help a ball reach the end point in a level. The lines can be used as 'roads' as the ball will roll across them. Eventually, pre-set lines will be placed within levels, so you will need to think carefully about how to utilize your own drawings to get your ball to the end point in each level.
You'll also find that drawing careful, straight lines goes a long way, and it seems Drawtopia rewards careful players over those who rush to complete each level as quickly as possible, and this is certainly different from the norm of current mobile arcade games.
Drawtopia is mostly free, and whilst it does have various in-app purchase, it's unlikely to make a difference on your own gameplay experience. You can check out Drawtopia here.