Flying Hamster is a mini game available through the Playstation Network for the PSP and PS3 as well as on the App Store for your iPhone, iPod touch and iPad. My review is based on the PS3 version. This side scrolling shooter is rated E10+ but I believe it can be a fun game for all ages. There is some use of alcohol, mild violence, and crude humor yes; but I can make exceptions when the alcohol is simply being used to shoot a stream of brew to knock down a line up of birds.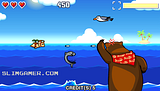 You play as Newton, the flying hamster on a mission to save his girl who has of course been kidnapped by the bad guys. With six unique environments, 8 crazy weapons, and more than 35 different enemies as well as six bosses we found that this game was silly enough to keep the player, and the onlookers, equally entertained. My kids thought the game was hilarious, and appreciated the simplicity of it. I myself enjoyed a silent chuckle at the humor on several occasions and couldn't help but laugh out loud at some of the cute graphics, both in the background and in game play. For those who crave more of a challenge, finishing the game allows the player to unlock hard mode which changes things up, giving enemies more HP and adding to the excitement.
Enemies are made up of a ridiculous combination of animals doing things that no animal should do – cows shooting milk from their udders machine gun style, ninja cats throwing yarn and more. Your weapon? Spit. Yes, Newton flies through the world, spitting down his enemies like nobodies business. But thats not all, collect power-ups and your simple spit turns into a laser beam stream of beer, sunflower seed pellets, and even Banana boomerangs. The controls are pretty straight forward and easy for anyone to get a grasp on. Use X to shoot, O for auto shoot, and the analog stick to move around. Hold X to power up and produce a stronger spit. The controls can be changed if you have other preferences, but I didn't have any need to change them.
Should you buy Flying Hamsters? Ultimately the decision is up to you, but if you ask me I would say if you can appreciate some good laughs and are looking for a casual game that you can play for a few minutes here and there I would say yes. It isn't one that I would want to play for hours on end, but have found myself returning to it when I just want something to do for a short time. The kids? They love it.
Title : The Flying Hamster
Format : PSP/PS3 Minis
Developer : The Game Atelier
Publisher : The Game Atelier
Release Date : 12/07/10
[starreviewmulti id=1 tpl=20]
*The Game Atelier provided SlimGamer.com with a promo code for a review copy.