In 1986 the late, great John Hughes gave a gift to the world with a little film called Ferris Bueller's Day Off. Glitch Games is best known for their puzzling adventure game Forever Lost, and this week they unleashed a new point and click title by the name of Ferris Mueller's Day Off. As the name implies, it's a parody of the famous 80s flick, but it's a whole lot more than that…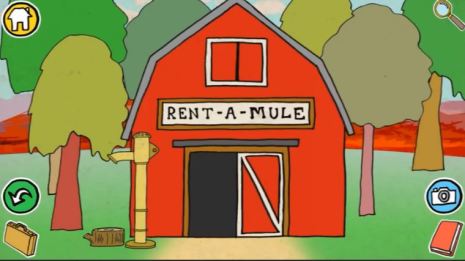 Ferris Mueller's Day Off is an 80s babies wet dream as it's a point and click adventure game that loosely mirrors the events in Ferris Bueller's Day Off. We say loosely because "Ferris" is actually a mule instead of a Matthew Broderick lookalike. You play the role of a local schools headmaster, and your job is to track down your pet mule Ferris after he escapes.


Hilarity ensues as you hunt down your mule and the golden carrots he left behind for you to find. Ferris Mueller's Day Off is a quirky little game, and it's full of quirky townsfolk and tricky puzzles. There are more pop culture references than you can shake a stick at including a few newer characters from films and shows that will be considered classics themselves as the years roll by. We won't spoil anything, but one of the surprise characters initials recently did him in…


Ferris Mueller's Day Off is certainly a departure from the style we saw Glitch Games use in Forever Lost. It's a weird little game, but it's quite a bit of fun, and you even get an in-game camera to help you document some of the strange things you'll see along the way. It's not a love letter to John Hughes, but it is a game 80s babies should get a kick out of. We'll have more on Ferris Mueller's Day Off next week once we've found all those golden carrots. In the meantime, you can pick up Ferris Mueller's Day Off for $0.99 on Google Play.